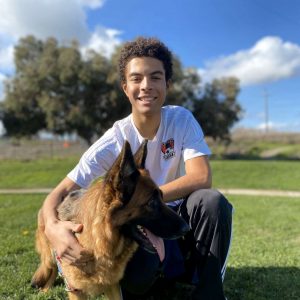 My name is Ian, and when I was diagnosed with epilepsy I honestly didn't know what to think. The question floating around in my head was "why me?". Though it was burdensome, I learned that perseverance is necessary for taking on the unknown. Sometimes in life, we aren't dealt the cards we want, but what matters most is how you play them. My diagnosis, which came in my freshman year of high school, felt like it would derail my dreams. It was hard in the beginning and I do still have my moments, but it has taught me to adapt to life's ups and downs.
I believe it's because of epilepsy that I began to connect to community service work during my high school years. The city I grew up in is a bit of a forgotten place with its share of struggles. A position I could relate to when my diagnosis came. Learning to accept my circumstance inspired me to join my school's Interact Club and advocate for positive change in my community. I started by volunteering and then joining my school's Interact Club, and by my senior year, I became the President. In this leadership role, I helped organize our schools Annual Warm for the Holidays Coat Drive, Red Ribbon Week skits for elementary school students, and monthly food drives to distribute groceries to community members in need. Additionally, as Co-President of C.A.R.E. (Club for Animal Respect and Education) I lead dog walks at our local animal shelter and raised money for animal welfare causes. It felt good to help my community and that work continues to shape my outlook on everything in life.
Along with my community service work I was a student athlete. A role I believed would suffer from epilepsy, and initially it did. It was hard to balance the mental and physical commitment of the sport, along with maintaining my grades. To combat this, I worked on my time management skills – recognizing the importance of sleep with my condition. Eventually I found a flow, and was honored to be recognized as a Scholar Athlete (maintaining a 3.8 & above GPA) in all four years of high school sports participation. Another honor came in my junior year, when I was voted Most Valuable Player (Men's Soccer) in the league my high school competed in. Again, none of these accomplishments seemed possible in the 9th grade when I was diagnosed, but they happened with determination and hard work.
As I fast forward to the present day, there are new adjustments that I have to make for myself. College has been a new frontier, especially in this age of COVID-19. I had no preconceived notions that I would meet it with the same successes that I did in high school, but the challenge of it has hit me hard. My first quarter, I felt like a failure. The experience has been extremely humbling, and another reminder of the importance of adapting to life's ups and downs. I've refocused in my second quarter, and am working hard to meet the new challenge. It's a long way from the confidence that I finally gained in high school, but I can say confidently, I know I will get there.